Stockton Heat fans react to rained out hockey game | News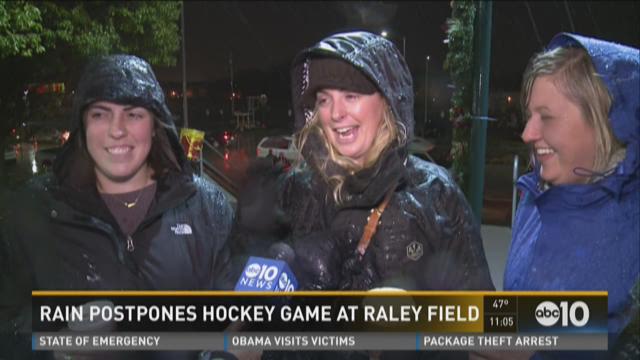 The "Stockton Heat" was set to play an exhibition game Friday night at Raley Field. But because of all the rain, it got postponed until Saturday afternoon.
Rain or shine. Hockey fans were psyched and ready for anything.
"I have 6 layers on top and 2 on bottom," said one fan.
Fans were hoping Stockton's hockey team would bring the heat this Friday night and take on the Bakersfield Condors during an exhibition game at this outdoor rink in Sacramento.
"It's good to have hockey here in Sacramento," said Phil Boyer, a fan.
But the rain fell and it came down hard.
At Raley Field, the ice rink looked more like a pond.
"It's a giant puddle!"
"The rink was drenched from the second we got here. an hour before, the zamboni came out and was going around trying to clean up. but water was going down fast."
So much rain fell, the game had to be postponed until Saturday.
"I'm a little disappointed," said Boyer.
"These setbacks are part of outdoor hockey," said Rick Cubin, the owner of RSI Sports. "We'll get the ice turned around."
Phil Boyer will be ready for it.
"I'll be with my poncho to watch hockey for sure," said Boyer.
The game is scheduled for Saturday afternoon. The puck drop is set to drop at 4:30 p.m. Doors open an hour earlier.